our Latest News and events

---
FINAL WEEKEND FOR THE BARN SALE DROP-OFF, BEFORE THE BIG SALE!!!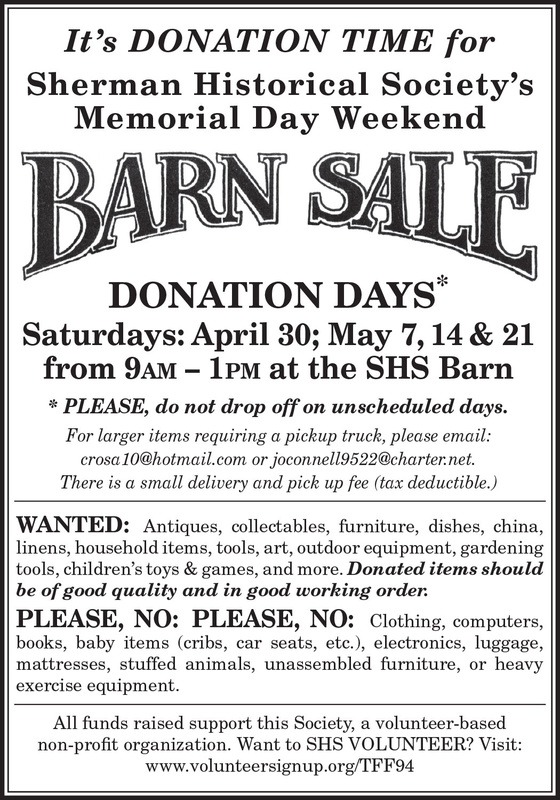 THE BARN SALE,
as always, will be held on
Memorial Day weekend, May 28, 2016, from 9am to 4pm
. We are a non-profit, volunteer-based organization that relies on this big, annual fundraiser to finance the Society's operating costs and help maintain the buildings owned by the Society so that we may continue to offer historical programming to the community throughout the year, remain a vital historical resource, and preserve these buildings that are part of the historic district and of great pride to the town of Sherman.
For more information
email us
or call 860-354-3083 and leave a message.
VOLUNTEERS:
If you are interested in becoming a volunteer with the Sherman Historical Society, we have many opportunities during our annual Barn Sale event. Click
here
to see what types of helpers are needed and the hours that are available.
We thank you as always for your support!
---
​
The Old Store Has Re-Opened For The Season. Come 'Buy'!
Spring is in the air, and the store is brimming with new and colorful merchandise to suit your every need.
Some of this season's finds are:
Serving boards made from black walnut, spalted maple, sycamore, eastern red cedar, and many other fabulous woods, handmade in Rhinebeck.
Beautiful glass serving bowls reminiscent of alabaster patterns, for an elegant addition to your table.

Paper placemats in both beautiful and fun designs, to pair with paper napkins that feel and look like cloth, but all add up to effortless Summer entertaining.
Great clothes for infants and toddlers from sweet onesies to toddler play clothes.
We also have lip gloss rings, "Confetti" scarves, dressup clothes, puzzles, games and more for busy little ones.
Fabulous paperweights with lighted bases (if you wish) that make a dramatic statement on your desk or in your bookcase.
All new hats, handbags, beach totes, scarves and jewelry.
A new shipment of Sherman and Naromi hats and shirts for adults, babies and children.
You'll find many more surprises when you visit the store, and we look forward to welcoming you.
Proceeds from the Old Store maintain the Store property and help support the historical society. Our hours are from noon to 4 p.m. Thursday through Sunday, or whenever the flag is flying. You can call us at 860-350-3475 or
e-mail
us.
---
---
MEMBERSHIP DRIVE STILL GOING STRONG!!
Thank you to everyone who has made their 2015-2016 commitment to the Sherman Historical Society as a member! We are so grateful for your contributions and we hope to keep history ALIVE in Sherman with your generosity!!!

If you would like to pay your membership via PayPal, please feel free to do so! We apologize if this was not available during the transition to our new website!!
---