President's Message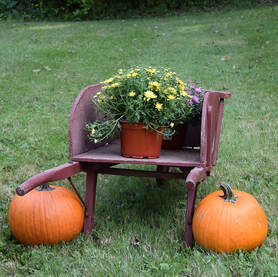 The 2022-23 fiscal year for Sherman Historical Society was a solid year of progress for our 152 members and the many friends of the Sherman Historical Society (SHS). The Society has clearly been busy preserving and promoting the history of Sherman and its surrounding communities. Through the careful management by the Endowment committee and our Treasurer, our fund-raising efforts, plus the overwhelming support of the community of our events, activities and supporting The Old Store, the SHS is financially sound.
I would like to highlight a few of the 2023 activities our volunteers have been involved in, detailed more on our events page:

We published the book, Reflections in October 2022, with a book launch, which was well attended and was a wonderful way to celebrate our rich history of artists, writers, dancers, and performers in who lived in Sherman during the 1920s to '50s. (Reflections is available for sale at the Old Store.)

The traditional Holiday Open House in December was dedicated to the late Joan Burke Taylor, a wonderful spirit and member volunteer of SHS. It was a heart-warming event coupled with the lighting of the outside Christmas tree, menorah, caroling, treats, and activities around the Northrop House created a festive atmosphere.

In March, we collaborated with the Institute for American Indian Studies located in Washington, CT by hosting Darlene Kascak, who presented "Quinnetukut - Stories Of Survival," at the Senior Center, educating us on the rich history of American Indian studies. It was a lovely afternoon of educational and cultural exchange.

We engaged with the Sherman School students through our annual Second Grade visit to the Northrop House and The Old Store. The 4th & 5th Grades created a Colonial Days/Mini Sturbridge event in June, with Sherman School teacher, Bernadette Linero. It was an excellent opportunity to educate young minds about colonial history and crafts.

The Annual Barn Sale, a Memorial Day Weekend tradition did not disappoint. Donations were overwhelming and the sale days were quite brisk. We also had volunteers who marched to represent the SHS in the annual parade.

In partnership with the Sherman Library, we presented, "Arshile Gorky: Could he be the last Surrealist and the first Abstract Expressionist?", an illustrated talk with John Cilio, author, historian and lecturer.

Finally, we are resuming our more normal activities like Northrop House tours, during Open House weekends or by appointment, which is a positive step towards engaging with the community.

The Old Store continues to thrive, serving as a destination for visitors and contributing to the Society's mission.

Late last fall we received a Connecticut Humanities Grant to upgrade our office equipment. Over the winter our office equipment and connectivity were upgraded along with adding WI-FI capability out to the Barn.

In August we awarded the Gloria Thorne Scholarship to three deserving high school graduates, who not only meet but exceeded our criteria, Domenic Le Rose, Philip Ostrosky, and Helen Seda. We wish them every success in their field of study and beyond.

We also received a generous donation from a member to make necessary renovations/maintenance needed for the Northrop House. We are in the process of renovating the upstairs bedroom and once this is completed, we will look to the next most pressing issue for renovation/maintenance.

All these events and other more mundane activities, like organizing, cleaning, planning, fund- raising activities would not happen without the dedicated efforts of our Board of Directors, staff, and volunteers. Their dedication to SHS plays a crucial role in the success of the Sherman Historical Society.

As we enter 2024, our 49th year, we look forward to expanding our existing programs and adding new and exciting events to our schedule each year. SHS is grateful for your continued support and enthusiasm. Together, we can create a brighter future for our community and beyond while remembering Sherman's place in history by keeping it alive.


Thank you,
Elizabeth Mard Haney, President


---
---
2023-2024 MEMBERSHIP DRIVE BEGINS IN AUGUST

Without you, We'd be History. With You, We Thrive and Keep History ALIVE.
Since 1975, The Society has preserved and interpreted our history for residents as well as for visitors to our beautiful town. We are only able to do this thanks to our members. You allow our mission to be a reality. As always we thank you for your generosity and continued support!
As we look back on the past year, we are truly grateful for the generosity of so many donors who kept our mission alive, for the many volunteers who made this year's Barn Sale a success, and who helped with programs for young and old, and for all of you who participated in our events. We would not be here without you.
On behalf of the Board of Directors, we would like to again thank you for Keeping History Alive in the Present, and for the Future.
You can mail a check to the office or select your Level of membership from the drop down box and click "Join Now" to make your dues payment via PayPal.Please click here for more information on how to donate.
---
FIRST SATURDAYS — NORTHROP HOUSE MUSEUM

The Northrop House Museum has reopened again for visits and tours, the first Saturday of each month, starting on August 5th, from 1-3pm. Volunteers will be on hand to walk you through or answer any questions you may have as you wander this 1829 home, furnished with authentic Sherman antiques and artifacts, that would have been used back then.
DO NOTE our next opening will be actually September 9, so as not to interfere with Labor Day weekend.

---
---
THE OLD STORE IS OPEN FOR THE SEASON and BEYOND...SHOP BY!
Our Old Store and volunteers have enjoyed the opportunity to serve folks for nearly 25 years! We are excited about the next twenty-five years too. Many things haven't changed over the decades; we personally select every item we choose to carry. We volunteer hard to make the store a nostalgic shopping experience while keeping a modern edge to your visit.
Some things have changed: we have much more inventory, we have a wider selection of gifts, softer sweatshirts, more jewelry and an expanding men's section. Our customer base has evolved to much of the surrounding state. The number of people who cross our threshold from out of Sherman exceeds those that come from Sherman. In some respects, we've become a destination with the help of Channel 12 videos, Connecticut's 169 Town guide and word of mouth advertising. We have repeat customers visiting their friends and family in Sherman year after year. We're fortunate to have customers travel from Europe and revisit our store each time they are visiting loved ones.
Regardless of where our customers visit from, we work to make each visit fun and unique. Recently an aunt was shopping for two gifts, twins, a boy and a girl. We delighted her when she saw how the packages were wrapped – celebrating the occasion as twins with applicable color coordination. A gentlemen came in one afternoon; his 40 plus anniversary was approaching and he was in need of a special gift for his bride. After some humorous discussion, we pointed out a few items for his consideration that could be just what he didn't know he was wanting. He left us with a big smile, a great gift that he especially liked not having to wrap - we did it up for the occasion for him. Speaking of wrapping a gift, in these days of airline travel, carry-on can be a challenge. When someone mentions the item they purchased is a gift and they are carrying it to the airport we know that leaving the package unwrapped is a must. Seeing the customer smile when we say, "You can wrap it at your destination with the included gift wrap, what color tissue would you prefer?" It warms our heart seeing their surprise.
We're here for you!
.
One hundred percent of every dollar we earn supports the building's maintenance, the scholarship fund or other Historical Society programs
.
Volunteer hours are Friday thru Sunday 12 to 4 and whenever the flag is flying.TO CONTACT US: 860-350-3475 or email
---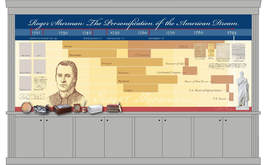 Did You Know...
The NEW Roger Sherman Learning Center

This rendering was done by our local graphic designer, Marie Loria, who, incidentally lives with her family on the property that was, 275 years ago, the Roger Sherman farm. It is a time line display which shows the trades that Roger Sherman mastered and the contributions he made in his public life. The cabinet surrounding the time line has now been completed by Jan Desiato.

This time line display is the centerpiece of our Roger Sherman Learning Center. Accompanying the time line is a downloadable audio that adds a wealth of detail about Roger Sherman's life, his family, the places where he lived and a sampling of documents and artifacts related to his life.

The display is open to the public by appointment only, it is accompanied by period furnishings, all with connections to residents of Sherman, photographs of early and contemporary Sherman Residents and descendants of Roger Sherman. It has a computer based research center which contains our growing collection of Sherman's documents (transcribed for readability), local oral histories and the barns of Sherman, all of which have been photographed. The center space is used for educational purposes for Sherman School students, public programs and special exhibits.
---
---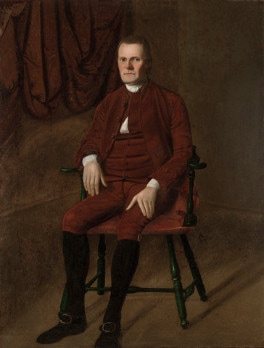 Did You Know...
Roger Sherman...'The Forgotten Founding Father.'
By John Jenner
It has been noted by Roger Sherman's biographers that he is "The Forgotten Founding Father". If we knew what he had contributed to the founding of our nation we would think of him as the Great Connecticut Statesman, our most important revolutionary hero.
What did he contribute? He served in the Continental Congress from its first meeting in 1774, through the Revolutionary War. Washington fought the war. but the Continental Congress ran the war and provided the weaponry, food, uniforms and finance. Roger Sherman was the only founder to sign all four of the founding documents and he played a significant roll in each of them.
The first was the "Articles of Association". The thirteen colonies had many border disputes that had to be resolved before colonies could unite to declare their independence as a committed set of thirteen states. Perhaps the greatest border dispute was the CT grant that extended westward across the upper half of Pennsylvania to Lake Erie. CT gave up these rights, holding only their portion of what is now Ohio. This is the Western Reserve, where CT citizen were given opportunities after the war.
Our second founding document was "The Declaration of Independence". We generally attribute it to Thomas Jefferson but, in fact, it was a committee of five statesmen who created it. They were: Jefferson; John Adams; Benjamin Franklin; Robert Livingston and Roger Sherman. If you still have a two dollar bill tucked away and look on the back you'll find a copy of the painting by our own John Trumball depicting the committee presenting the draft to John Hancock.
Our constitution is not the first one under which we were governed as a nation after the Revolutionary War. The first was "The Articles of Confederation", and there were thirteen Heads of State before Washington. It did not work well because the balance of power between the states and the central government had not been properly crafted.
Concerned leaders convinced Washington to convene the Constitutional Convention to draft a new constitution. The states representatives were deadlocked over the states vs. federal balance as before until Roger Sherman again proposed "The Great Compromise", which provides for proportional representation in the House and equal representation in the Senate. The deadlock was resolved, the "U.S. Constitution" was drafted, signed and taken back to the states for ratification. CT, under Roger Sherman's leadership, was the second state to ratify our constitution.
When George Washington was elected first President under our present constitution and the first Congress was seated, Roger Sherman was a CT Representative in the House. After a year or so one of our CT Senators resigned and Roger Sherman was selected to take his seat in the Senate, where he served until his death.
Your may recall that James Madison is credited with drafting the first ten amendments to our constitution, which we call "The Bill of Rights". A few years ago a draft copy of Madison's proposed nine rights was discovered in the National Archives among the Madison papers. It had Roger Sherman's comments and a suggested tenth right. Wouldn't you like to know which one he proposed?
Doesn't it seem to you that Roger Sherman should be recognized as one of our Founding Fathers? He served in public office almost fifty years and that is longer than any of our other recognized Founding Fathers.

---
---
Our Mission
To bring together people interested in Sherman's history, to collect and preserve objects which help to establish or illustrate its history, to acquire and manage any property available to the Society, to interest young people in their town's heritage, to publish historical information, and to maintain a library of historical materials.