Our Mission
To bring together people interested in Sherman's history, to collect and preserve objects which help to establish or illustrate its history, to acquire and manage any property available to the Society, to interest young people in their town's heritage, to publish historical information, and to maintain a library of historical materials.

---
OPEN HOUSE - THANK YOU!
We appreciate all who came to celebrate with us at the Society's Holiday Open House and Barn, as well as to see Santa, and shop The Old Store. It was wonderful return! Our "PEACE by PIECE" quilt exhibit drew people's eyes and inspired awe with its colorful displays of intricacy, history, creativity and patience. It was a fine tribute to our much-missed member Joni Taylor as well. We welcomed two new volunteers: mother and daughter team of Lucy and Helen, and a return of past volunteers who worked behind the scenes to prepare our wonderful decor.
The hearth kitchen warmed and invited with a crackling fire and our talented bakers making old fashioned biscuits using hot coals and a Dutch oven. The scent mixed with spices of the mulled cider served in the dining room along with an array of delicious cookies. Our newly restored Barn showcased its wonderful, permanent farming exhibit along with holiday decor fit for Santa, who arrived to our annual tree lighting amid sirens, carols and cheers. The menorah will light on the first day of Hanukkah.
Northrop House will be open for tours this Sunday from 1-3, or whenever the flag is flying and open sign is hung.
Still have gifts to buy? The Old Store continues to be open Thursday through Sunday, noon until 4 PM, opened late on Thursday, December 15th until 7:30pm, or any time the lights are on and the flag is flying. It will close for the season at end of day Christmas Eve.
Again, thank you for making the season brighter for us by joining in our community celebration. Here are some pics of the events.
Here is the link to the photo taken by Sarah Wiggins Photography: https://jaswiggins.prodibi.com/a/l4j8rer2v4v7g9y
Photo Credits: Doris Tomaselli & Sarah Wiggins Photography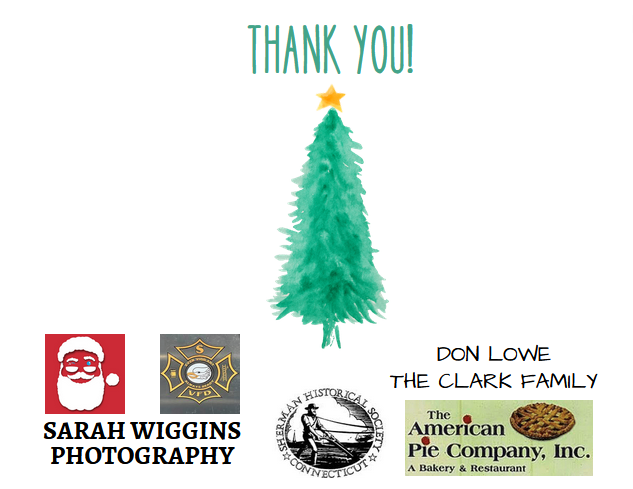 ---
---
JOIN US FOR OUR ANNUAL HOLIDAY OPEN HOUSE
PEACE BY PIECE
Come celebrate once again with good friends and good cheer at the Society's Northrop House and Barn on Saturday, December 3rd and Sunday, December 4th from 1-4pm.
Both house and barn will be decorated for the holidays and our theme will explore the history of quilting and patchwork patterns. This year's Open House is dedicated to the late "Joni" Burke Taylor, a Sherman Historical Society member whose spirit and love of life we truly miss. Joni was a passionate quilter. Her family has generously loaned many of her beautiful, contemporary quilts for our exhibition. In addition, from the estate of Alice Schneckenberger, her daughter Grace, has given us many antique quilts from her mother's collection. Also on display, is a sampling of antique quilts from the Historical Society's own collection.
The hearth kitchen will be warm and filled with the scents of cooking and refreshments will also be served. Our newly restored Barn has showcased a wonderful, permanent farming exhibit, Looking Back. The decorated tree in the barn promises to surprise everyone. It remains a well-kept secret and a tribute to Joni.
The Annual Tree Lighting will follow Sunday's Open House at 4pm, with caroling, cookies and cocoa and the big man himself, SANTA, will drop by! Sarah Wiggins Photography will be on hand taking pictures and extra parking is available in the library lot. (The menorah will be lit at the start of Hanukkah.)
The Old Store, with its fabulous array of merchandise, will be open as well for all your holiday shopping! The store is open Thursday through Sunday, noon until 4 PM, and will close for the season at end of day Christmas Eve. (Hint, hint! Our new book, Reflections, (see below for more details) would make just the perfect read for those interested in the creative side of our local history.) Of course, any time you see the lights are on or the flag is flying at the Old Store, you are welcome to stop in!
We hope that you will come and celebrate the season with us and we wish you all PEACE and joy—and the warmth of a cozy quilt—throughout the holidays and the year ahead. For us? We'll be looking forward to getting back to history!

---
THE OLD STORE IS HOLIDAY READY!
Shop by and let us help you make your Holidays great.
The Old Store is ready for the upcoming Holidays. Whether you are looking for the perfect gift, something to help spread some holiday cheer, teacher presents, festive holiday decor, or a gift to treat yourself for all you do, we have something to fit the bill! Our wonderful volunteers will gladly help you with your holiday purchasing needs and we gift bag too! We are here Thursday through Sundays, from noon until 4pm, or if the flag is flying. And like jolly, old St. Nick, we will be taking a much needed break as of the close of business on Christmas Eve..but we will reopen in April.
TO CONTACT US: 860-350-3475 or email
---
---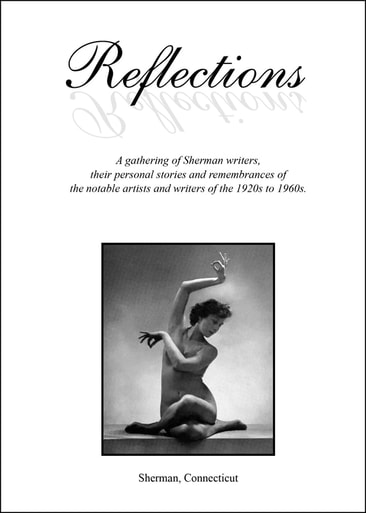 The Historical Society presented its new book Reflections, to the public on Saturday, October 8th, 2022, at the Sherman Playhouse. We appreciate all who came to listen and to buy.
The authors each gave short recaps of their entries for this collaborative effort that grew out of several members sitting around talking of their childhood memories at a time when a number of influential artists and writers had taken up residence in Sherman. When it became clear that these "ordinary" recollections of "just" friends and neighbors—and even family—were anything but, the idea for
Reflection
s was born, spearheaded by Society Curator Gloria Thorne and artist/dancer/teacher/Board member Ginny Zellner. To put those interactions into context, these authors needed to write their own stories as well—and what an additional treasure trove of discovery that was! (
more
)
Pictured below are the Writers Group (from left to right) Gloria Allen Thorne, Frank Weddell, the late Betsy Ward Scholze, Pat Endress, Bill Braislin, Jeanne McRoberts, Ann Lund Price, Doris Tomaselli, and Ginny Zellner
---

---
BARN DEDICATION & FARM EXHIBITS
The Society hosted a private cocktail party and barn dedication event on September 17, 2022, to thank the many generous donors who made the barn's complete restoration possible. The weather was lovely and we had a fine turnout of guests. The event was catered by Mike and staff of the IGA, with desserts furnished by Audrey and the American Pie Company, Inc., as well as talented Board member Allyson Mard. Entertainment was provided by musician/singer Mike Tino.
First Selectman Don Lowe spoke during the short ceremony as did Society President Elizabeth M. Haney and past-President/current Curator Gloria Thorne.
We thank Jan Desiato for overseeing and doing much of the restoration, as well as the outside contractors and individuals who helped with the physical reconstruction and necessary upgrades to electricity and lighting, etc. We also thank those who coordinated the campaign to raise the necessary funding and those who worked as tirelessly to pull together this event.
The dedication was also the launch for our permanent farm exhibit, Looking Back, curated by Sue Moga, and topped off with a installation of a video about Sherman's history, featuring Gloria Thorne as narrator.
Photo Credit: Doris Tomaselli

---
2022 GLORIA THORNE SCHOLARSHIP WINNERS
Congratulations to Susan Hackett and Elish Foy!
The Historical Society is pleased to announce that is has awarded its 2022 Gloria Thorne scholarships to two worthy recipients: Eilish Foy and Susan Hackett. We thank all who submitted applications; it was a field of excellence from which we chose.
Eilish and Susan are no strangers to the SHS. They both volunteered in different capacities over the years. Eilish worked primarily with the Old Store while Susan contributed much to the children's programs. It was rewarding to see the maturity in these teen volunteers develop over the years and know the qualities that they have will take them far in their college years and in their careers ahead.
Eilish Foy, a graduate of Shepaug Valley High School, is attending Clemson University in South Carolina to pursue a nursing degree, specializing in maternity care.
Susan Hackett, who graduated from New Milford High School, attends UConn at Storrs with no set major but possibilities in business or education, as well as interest and talent in ceramics.
Both of these bright, young women worked and volunteered while maintaining excellent grades.
And thus, it was with pleasure that President Liz M. Haney and Gloria Thorne awarded these scholars with ceremonies at Northrop House with family proudly in attendance.
We wish Eilish and Susan every success and happiness in academia and beyond

---
2022-2023 MEMBERSHIP DRIVE KICK-OFF
Without you, We'd be History. With You, We Thrive and Keep History ALIVE.
Since 1975, The Society has preserved and interpreted our history for residents as well as for visitors to our beautiful town. We are only able to do this thanks to our members. You allow our mission to be a reality.
As we look back on the past year, we are truly grateful for the generosity of so many donors who took our capital campaign beyond our expectations, for the many volunteers who made the Barn Sale a success once more and who helped with programs for young and old, and for all of you who participated in our events. We would not be here without you.

On behalf of the entire Board of Directors, we would like to again thank you for Keeping History Alive in the Present, for the Future

You can mail a check to the office or select your Level of membership from the drop down box and click "Join Now" to make your dues payment via PayPal.

​As always we thank you for your generosity and continued support!

---
Our annual membership drive continues and we ask that you partner with us to preserve Sherman's history, provide programs and exhibits and continue to maintain our properties.
On behalf of the entire Board of Directors, we would like to thank you in advance for your support!
Please click here for more information on how to donate.
---
2021 SHS Annual Meeting, took place on Tuesday September 28th
---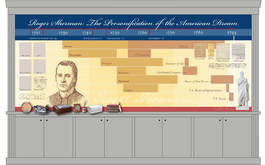 Did You Know...
The NEW Roger Sherman Learning Center

This rendering was done by our local graphic designer, Marie Loria, who, incidentally lives with her family on the property that was, 275 years ago, the Roger Sherman farm. It is a time line display which shows the trades that Roger Sherman mastered and the contributions he made in his public life. The cabinet surrounding the time line has now been completed by Jan Desiato.

This time line display is the centerpiece of our Roger Sherman Learning Center. Accompanying the time line is a downloadable audio that adds a wealth of detail about Roger Sherman's life, his family, the places where he lived and a sampling of documents and artifacts related to his life.

The display is open to the public by appointment only, it is accompanied by period furnishings, all with connections to residents of Sherman, photographs of early and contemporary Sherman Residents and descendants of Roger Sherman. It has a computer based research center which contains our growing collection of Sherman's documents (transcribed for readability), local oral histories and the barns of Sherman, all of which have been photographed. The center space is used for educational purposes for Sherman School students, public programs and special exhibits.

---
---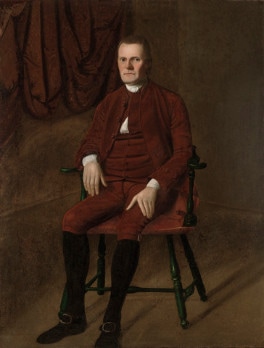 Did You Know...
Roger Sherman...'The Forgotten Founding Father.'
By John Jenner
It has been noted by Roger Sherman's biographers that he is "The Forgotten Founding Father". If we knew what he had contributed to the founding of our nation we would think of him as the Great Connecticut Statesman, our most important revolutionary hero.
What did he contribute? He served in the Continental Congress from its first meeting in 1774, through the Revolutionary War. Washington fought the war. but the Continental Congress ran the war and provided the weaponry, food, uniforms and finance. Roger Sherman was the only founder to sign all four of the founding documents and he played a significant roll in each of them.
The first was the "Articles of Association". The thirteen colonies had many border disputes that had to be resolved before colonies could unite to declare their independence as a committed set of thirteen states. Perhaps the greatest border dispute was the CT grant that extended westward across the upper half of Pennsylvania to Lake Erie. CT gave up these rights, holding only their portion of what is now Ohio. This is the Western Reserve, where CT citizen were given opportunities after the war.
Our second founding document was "The Declaration of Independence". We generally attribute it to Thomas Jefferson but, in fact, it was a committee of five statesmen who created it. They were: Jefferson; John Adams; Benjamin Franklin; Robert Livingston and Roger Sherman. If you still have a two dollar bill tucked away and look on the back you'll find a copy of the painting by our own John Trumball depicting the committee presenting the draft to John Hancock.
Our constitution is not the first one under which we were governed as a nation after the Revolutionary War. The first was "The Articles of Confederation", and there were thirteen Heads of State before Washington. It did not work well because the balance of power between the states and the central government had not been properly crafted.
Concerned leaders convinced Washington to convene the Constitutional Convention to draft a new constitution. The states representatives were deadlocked over the states vs. federal balance as before until Roger Sherman again proposed "The Great Compromise", which provides for proportional representation in the House and equal representation in the Senate. The deadlock was resolved, the "U.S. Constitution" was drafted, signed and taken back to the states for ratification. CT, under Roger Sherman's leadership, was the second state to ratify our constitution.
When George Washington was elected first President under our present constitution and the first Congress was seated, Roger Sherman was a CT Representative in the House. After a year or so one of our CT Senators resigned and Roger Sherman was selected to take his seat in the Senate, where he served until his death.
Your may recall that James Madison is credited with drafting the first ten amendments to our constitution, which we call "The Bill of Rights". A few years ago a draft copy of Madison's proposed nine rights was discovered in the National Archives among the Madison papers. It had Roger Sherman's comments and a suggested tenth right. Wouldn't you like to know which one he proposed?
Doesn't it seem to you that Roger Sherman should be recognized as one of our Founding Fathers? He served in public office almost fifty years and that is longer than any of our other recognized Founding Fathers.

---
---